warning: the following contains gory and explicit content
now i know why their chicken meal is expensive.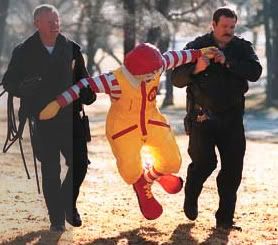 the police force have to know that there are a million more clones of the clown in red and yellow stripes worldwide.

omg! just imagine the product of a red bee and a brown ice cream girl.
from now on, i have to be cautious with the pink mayo sauce on the burgers that i eat.
video lifted from u tube. first saw it at
garytarugo's
blog
**********
hindi lahat ng bubuyog itim!
-jollibee
**********
years ago, i remembered how children jumped up and down in excitement as they anticipated the grand entrance of chuckie,
kfs's
chicken mascot.
back then, i thought their ecstacy over the mascot was brought by the fact that they haven't seen a feather of chuckie yet, or that most children invited that day belonged to those group who branded all mascots in the society as entertaining.
i watched how those children screamed and pestered their parents just to see the (undressed) chicken dance. after about 20 minutes of waiting, chuckie finally appeared and i was surprised by what happened next.
a few seconds after chuckie exposed itself, total silence filled the room, then a series of sreams and cries bounced on every walls of the area. all children ran back to their parents as they wore fear over their innocent faces. and from that instance, i've concluded that seeing a huge dancing white chicken in front of you while eating chicken, is not a pretty good sight.