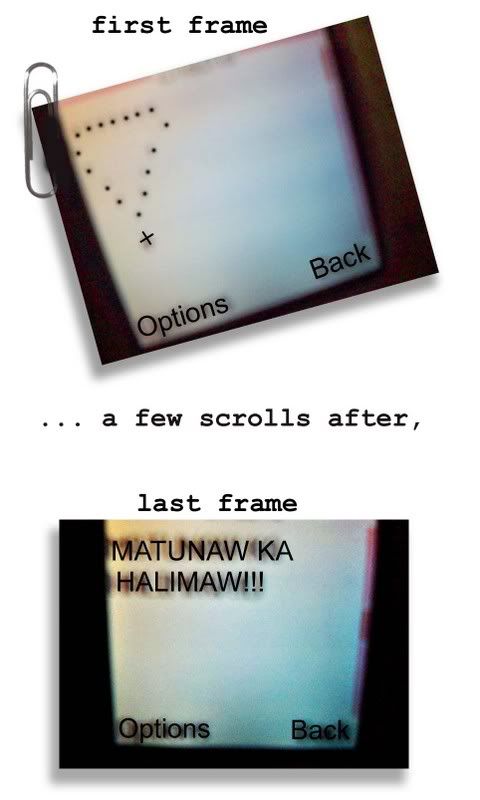 how would you react to that?
i was surprised and laughed a bit about the message's sudden twist. i was expecting another
pls pass this rosary to blah blah people in blah blah days or else yada yada yada
text, but instead, i got that one. nice and witty.
minutes after i recovered over my laughter-hangover from the funny message, i received an unexpected reply from the most unlikely person to text me, my instructor who flunked 15% of my total grade in one of my subjects.
the text message read:
hu's dis?
i was surprised, really. i was just exploiting
globe's unlimitext
service and i will not in any way text someone subscribed to
smart
unless necessary.. her number was not included in my phone's distribution list, i was sure of it. or so i thought.
i immediately checked the contacts on my distribution list, and voila! her number's there.
in an instant, the party of my happy hormones was paused.
my duct tape-plastered n2650 played tricks on me again and randomly added
smar
t numbers on my
globe
distribution list.
i found myself torn between the dilemma of whether i should reply to her or not.
she has failed many students, so i assumed she may have interpreted the message in another way. what if she found it offensive? would she? if you were to put yourself in her shoes, a mid-20s instructor who has failed several students out of whim (i think), would the funny text message offend you?
blah. i was just bothered for a couple of minutes. i did not give in to the pressing stress. i chose to party with my happy hormones and sent her no reply.